Whether you're a thrill seeker on the hunt for a good scare or simply in search of the ideal spot for your Halloween wedding, one of these top five haunted hotels in America will be sure to meet your expectations. And while choosing the perfect wedding site is crucial, finding matching themes in your decorations, outfits and halloween wedding invitations will take your Hallowedding to the next level. But for now, here are some spooky-good destinations.
1) The Stanley Hotel — Estes Park, CO
Construction of the Stanley Hotel began in 1906 by Freelan Oscar Stanley — the creator of the Stanley Steam Engine.
The hotel is most famous for being an inspiration piece for Stephen King's The Shining. King and his wife stayed at the hotel for a night.
Although he did not write The Shining specifically about the hotel, the historic haunt's scenic mountain views, haunted history, and spectacular size and architecture are apparent in King's spine tingling novel.
There have been many reports of ghost sightings at the hotel. The most famous being Stanley himself. Mrs. Stanley has also been sighted a number of times by guests.
Room 407 is considered the most haunted room in the hotel. Many visitors report ghostly experiences such as flickering lights, cold spots, and more.
Located only six miles away from Rocky Mountain National Park, the hotel is graced with spectacular views in every directions.
The Stanley Hotel is as beautiful as it is haunted and quite extravagant to boot — a perfect spot for a Halloween wedding.
Learn more about this haunted hotel on StanleyHotel.com.
2) Concord's Colonial Inn — Concord, MA
Dating all the way back to 1716, this haunted hotel is the oldest one our list. The Concord Inn started out as the humble home of the Minot family.
Some believe Mr. Minot served as a doctor during the battles of Lexington and Concord and aided wounded soldiers in his home.
More rumors suggest the building acted as a morgue during the battle, which would explain the apparition of a bloodied soldier often seen in room 24.
According the Inn's official website, it was used as a storehouse for arms and provisions in the 1770's.
In 1775 British soldiers came to seize and destroy the supplies. Minutemen intervened — meeting the red coats at the North Bridge on April 16th, sparking the first battle of the American Revolution.
During the 19th century Henry David Thoreau and his family lived at the residence from 1835 to 1837. After that, the building acted as a boarding house and was later converted into a hotel in the 1800s.
Since then the inn has been renovated. It offers all of the comfort and amenities of a modern hotel, but has maintained much of its original architecture and old-time charm.
The Concord's Colonial Inn's spooky history and ripe age make it a perfect spot to celebrate Halloween, and the graceful architecture and vintage decor will add eerie flavor to any Halloween wedding.
Learn more about this haunted Historic Landmark on ConcordsColonialInn.com.
3) Hotel Del Coronado — Coronado, CA
Hotel Del Coronado gets its name from the island it's built on — Coronado Island. This massive beach-side hotel first opened its doors to the public in 1888.
It has been visited by presidents Benjamin Harrison, William Taft, Ronald Reagan, Richard Nixon, Jimmy Carter, and Gerald Ford and movie stars Charlie Chaplin and Kirk Douglas, among others.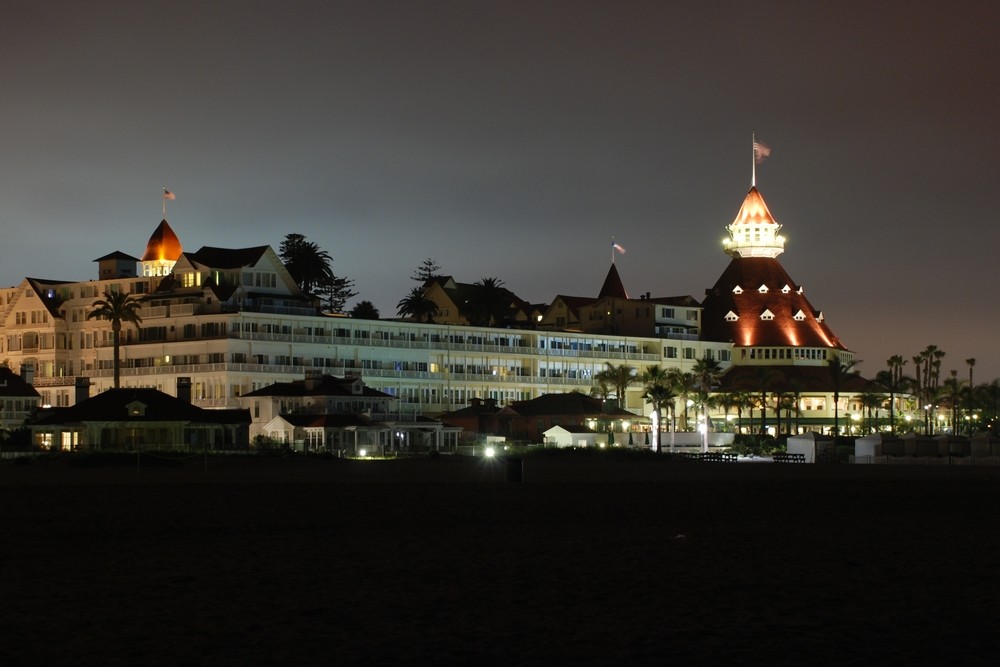 It has also been featured in a number of films, including Some Like it Hot and The Stunt Man.
The hotel gets its haunted reputation from Kate Morgan, a young woman who checked into the hotel in 1892 and never checked out.
The young woman gave the hotel a fake name upon her arrival and stayed there for five days. On the fifth day, someone found the woman dead on an exterior staircase leading to the beach.
The cause of death was a self inflicted gunshot wound to the head, but there has always been skepticism on whether she committed suicide or was murder.
It's believed her spirit still lingers at the hotel and can often be sighted in her former guest room, 3327.
Guests staying in room 3327 have had chilling experiences such as flickering lights, cold spots, rattling pipes, water faucets turning off and on at random, and some have even reported seeing a ghostly apparition.
Guests and hotel employees claim to have seen Kate's spirit in other parts of the hotel as well.
Learn more about this haunted luxury hotel on HotelDel.com.
4) Manresa Castle — Port Townsend, WA
Charles Eisenbeis was a Prussian baker who profited on selling goods to ships picking up provision in the Port Townsend Harbor.
He succeeded as business owner in the small, but burgeoning, Washington city and later served as Port Townsend's first mayor.
Charles built Manresa Castle for his young wife Kate. It was completed in 1892 and the couple lived there until Charles's death in 1902.
The building was then left empty, besides a caretaker, for 20 years until it was sold to The Society of Jesus in 1925.
The Society of Jesus added on to the mansion and renamed it, Manresa Hall, in honor of the small Spanish village where the Jesuit Order was founded.
In 1968 the building was sold to Dolly and Josh Norton, who turned the Victorian mansion into a hotel and renamed it Manresa Castle.
Ever since the building was turned into a hotel, guests and employees alike have been reporting ghostly happenings.
Two legends popped up to explain why the hotel is haunted; one regarding a grief stricken woman who leaped to her death from one of the mansion's windows and the other involving a priest who committed suicide in attic or tower of the hotel.
No one is really knows for sure if either of those stories are true, but visitors and staff are certain that something is going on with the castle.
Manresa Castle holds an annual Halloween ball where guests dress up, enjoy live music, and embrace the hotel's eerie nature.
The hotel also has space available for weddings. They are often held in the hotel's library, while wedding photos are taken in the hotel's charming courtyard/garden — which  features an ornate fountain and a romantic array of greenery that explodes into a fiery spray of orange, red, and yellow in the fall.
Check out ManresaCastle.com for more details on this haunted hotel. Take a look at TylerandHannah.com for more gorgeous wedding photos.
5) Hotel Provincial — New Orleans, LA
Tucked away in New Orleans's internationally distinguished French Quarters lies Hotel Provincial, a romantic 93-roomed hotel with a history that stems all the way back to the early 18th century.
The hotel is made up of five buildings (100, 200, 300, 400 and 500), each with its own history.
The land where building 500 of the hotel stands has held a variety of structures — the earliest dating back to 1722 when a colonial hospital was built there.
In 1831 the hospital and land was sold. The new owner tore down the old hospital and replaced it with two elaborate mansions.
In 1848 the mansions were sold and used for commercial use and both buildings were possibly used as Civil War hospitals.
The two mansions burned to the ground in the 1874 fire and the present 500 building was built there soon after.
The building served as the head quarters to The Reuter Seed Company from 1916 until it was bought by the Dupepe Family in 1969 — who finally turned it into a hotel.
Some believe the hotel's supernatural happenings come from when military hospitals were used on the land, which would make since considering many of the ghost sightings at the hotel are of 18th and 19th century soldiers.
Beyond its deep history and ghostly reputation, the Hotel Provincial is valued as an architectural gem — with meticulously restored historic buildings. The hotel also offers stunning tropical courtyards and vintage furnishing.
With beautiful architecture, furniture, and decor that will take you back time and a variety of modern amenities, the cozy hotel offers the best of both worlds.
Luxuries such as two private swimming pools, an award winning restaurant on premise, and beautiful courtyards can be enjoyed there, in addition to simple pleasures in each room like air conditioning, high-speed wireless internet, cable, flat screen HD TVs, and much more.
Learn more about visiting this gorgeous historic hotel this Halloween on HotelProvincial.com. For more beautiful New Orleans wedding photos, take a look at NewOrleansPhotographers.com.
Happy Haunted Hotel Hunting
Hopefully these haunted hotels have left you feeling inspired!
For more great venue suggestions, take a look at our Most Haunted Places in America post.
For wedding invites of any kind, visit Weddingpaperie.com or Purpletrail.com
(Visited 8,617 times, 1 visits today)