Rather than throwing a traditional bachelor party, take a manly adventure with your closest pals using one of these 20 gripping bachelor party ideas. Ranging from cross country motorcycle tours to laid-back BBQs, peddle taverns, surf excursions, and more, here you'll find everything from simple and cheap bachelor party ideas to life-changing experiences all men must try before getting married. Check out our latest completely customizable Bachelor Party Invitations.
Adventurous Bachelor Party Ideas
Adventurous Bachelor Party Ideas: Live Like A Cowboy
Bring your bachelor party out west and live out boyhood fantasies at a guest ranch. While almost all guest ranches offer horseback riding, acres of land to explore, and gorgeous natural settings, each one provides a unique experience.
Some may offer luxuries like massage, spacious rooms, and swimming pools while others are more on the rugged side and require hands-on participation in real ranch work, such as herding cattle, fixing fences, and more. Find a guest ranch that works for you on Top50Ranches.com.
Adventurous Bachelor Party Ideas: Charter A Boat
From catamarans to yachts to full-fledged cruise ships, party boats come in a variety of shapes and sizes. Choose one that suits your guest list and budget and take your bachelor party out to sea for a memorable, unique experience you and guests will never forget.
Adventurous Bachelor Party Ideas: Rent Dune Buggies, Dirt Bikes, or ATVs
Driving fast, getting dirty, and catching air in dune buggies, dirt bikes, or ATVs is a great way to celebrate your last days as a bachelor. Check online to see if there's a course and rental facility near you. If not, take a bachelor party trip with friends to one of these Top 10 Sand Dune Locations.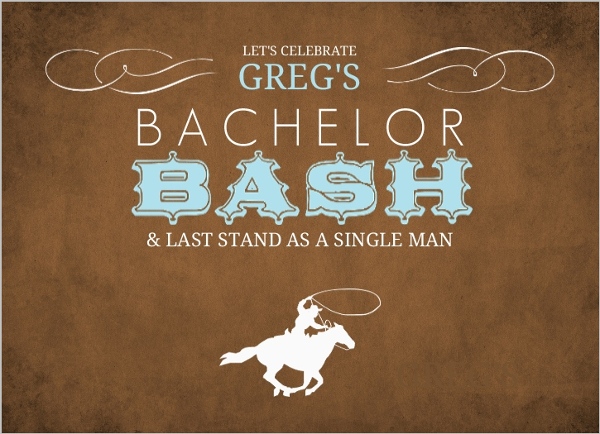 Outdoor Bachelor Party Ideas
Outdoor Bachelor Party Ideas: Hiking, Camping
Enjoy your last days of bachelorhood in the great outdoors hiking or camping with friends. Plan an epic day hike or organize a weekend hiking/camping adventure. Go to a favorite spot or explore somewhere new.
Outdoor Bachelor Party Ideas: Surf Excursion
Patience, surrender, and balance are just a few things you can learn from surfing that will come in handy as a married man.
Whether you've been doing it your whole life or never tried it, invite a group of friends to celebrate your bachelor party with a weekend surf excursion. If you don't live by the ocean, travel to a warm destination.
The trip will add to the experience and give you even more opportunities to bond with the guys.
Outdoor Bachelor Party Ideas: Snowboard, Ski Excursion
If surfing's not for you, take your fellow bachelors on a snowboard or ski excursion instead. In addition to skiing or snowboarding, you can add to the experience by staying in a high-end cabin or at the ski lodge, only steps away from the slopes.
Cheap Bachelor Party Ideas
Cheap Bachelor Party Ideas: Bachelor BBQ, Cookout
If your bachelor party will take place this summer, save money and relax with the guys at a bachelor party BBQ. Prepare drinks, outdoor entertainment, and grilled favorites. Make it a potluck and ask guests to bring a side and beverages or keep it simple with just a few main dishes.
Cheap Bachelor Party Ideas: Fishing Trip
A bachelor party fishing trip with friends is an affordable, fun way to create fond memories and celebrate manhood before tying the knot. You can make your trip even more affordable by camping out instead of staying in cabins and living off the fish you catch instead of eating out.
Trip Bachelor Party Ideas
Trip Bachelor Party Ideas: Road Trip
Invite a group of friends to join you for a bachelor party road trip. Whether you go near or far, your road trip with friends will leave you relaxed, enriched with fond memories, and ready for life as a married man. Check out these 7 Most Amazing Under-the-Radar Road Trips in the U.S. for ideas on where to go.
Trip Bachelor Party Ideas: Motorcycle Trip, Guided Tour
Whether it's the risk involved or the sense of freedom they bring, or simply the fact they are undeniable cool, there's something about motorcycles that every guy finds irresistible.
If you've ever fantasized about hitting the open road mounted on a metal stallion, indulge yourself by taking a motorcycle guided tour with a group of friends for your bachelor party.
You can purchase guided day tours, weekend tours, or cross country tours that last more than two weeks. Learn more on EagleRider.com.
Trip Bachelor Party Ideas: Travel by Boat or Train
Mix up your bachelor party trip by traveling via boat or train. This is a great choice for those who enjoy long rides, beautiful scenery, and cozy quarters. Get inspired for this unique bachelor party trip idea by checking out Travel National Geographic's Top 10 North American Train Trips.
Beer, Booze Bachelor Party Ideas
Beer, Drinking Bachelor Party Ideas: Tour A Brewery
A classic bachelor party activity, touring a brewery can be fun, interesting, and very tasting. Check with breweries in your area to see if they offer private tours or any specials for large groups.
Beer, Drinking Bachelor Party Ideas: Pedal Tavern
If you and guests are planning a pub crawl or in search of new, fun ways to drink, try renting a pedal tavern for your bachelor party.
Pedal taverns are 16-person, bicycle-powered carts that you and other passengers peddle and a guide steers to bars around the city or anywhere else you want to take your bachelor party.
These are popping up in cities big and small and are an affordable, unique alternative to party buses. Check out PedalTavern.com for more on this zany, fun way to celebrate your last night out as an unmarried man.
Beer, Booze Bachelor Party Ideas: Go Whiskey Tasting
Whiskey tasting can be a little pricey, but it's your bachelor party, splurge a little. You can plan a private whiskey tasting at a bar or attend a public whiskey tasting event or a whiskey tasting festival. Check online to see what's available in your area. This website has more info on whiskey tasting festivals: WhiskyLife.com.
Cool Bachelor Party Ideas
Cool Bachelor Party Ideas: Go To A Sporting Event
From football, basketball, and soccer to monster trucks, WWE, and UFC, attending a sporting event can be an exciting, memorable experience, especially if you're watching your favorite team or athlete. See what's happening near you or where your favorite team or athlete is headed. If it means traveling a bit to attend the event, don't sweat it. The trip will add to your bachelor party experience.
Cool Bachelor Party Ideas: Adult Speedways
Adult speedways feature faster cars and more difficult courses than you'd find in traditional go kart facilities. You can even join leagues, private or public, and test your skills against others for prizes. Check out AutoBahnSpeed.com for more information on adult racing leagues.
Hopefully you found these 20 fun, unique, and clean bachelor party ideas inspiring! Have fun celebrating! Don't forget to fill guests in on your bachelor party plans well ahead of time. Create personalize bachelor party invitations that match your event and tastes perfectly on WeddingPaperie.com.
(Visited 49,169 times, 3 visits today)